Prime Minister Announces Kamyab Jawan Program
2021-01-05
Prime Minister Announces Kamyab Jawan Program
Prime Minister's Imran Khan has announced the Kamyab Jawan Program to support the youth of the country to where they will get loans to kick up their businesses.
In this scheme all eligible persons can apply for this loan by visiting your nearest selected bank branches OR by visiting Kamyab Jawan Portal. The only designated online portal is acceptable.
Key Points for Applying this Loan:
Following are the key points for applying for the loan.
Who Can Apply?
All Men/Women/Transgenders having CNIC
Purpose of Loan:
Setting Up of New Business
OR
Expand your Existing Business
Business Type:
As per the declaration Small, Medium or Existing Business setups by youth among mentioned ages.
Loan pricing, Security & Sizes
| | | | |
| --- | --- | --- | --- |
| Tier | Pricing Per Year | Loan Amount | Security |
| Tier I | 3% | 1 Lakh to 1 Million | Clear Loan |
| Tier II | 4% | 1.1 Million to 10 Million | Secured Loan |
| Tier III | 5% | 10.1 Million to 25 Million | Secured Loan |
Age Limit:
Between 21-45 Years where CNIC is compulsory for applying for this loan. An 18 years old jawan can also apply but he must be a Matric Certificate holder.
Loan Duration:
The time duration for Kamyab Jawan is Program 8 years with of 1-year grace period
Sectors:
All Sectors are eligible to avail Kamyab Jawan Program Scheme including agriculture
Processing Fee for the Loan:
Rs 100 only will be charged on processing
Required Documents to Apply for loan:
Before starting an application, the candidate must have scanned copies of the following documents along with Passport size Pictures.
Clear Picture of the applicant
front and back visible Picture of candidates CNIC
Educational Degree, upload your highest degree
Proof of Skilled Labor (If Available)
Experience Certificates
The license in case of applying for medical store or commercial vehicle
Latest Tax return and NTN
Number of Electricity connection installed at a residential address of the consumer
Anticipated Expenses and Revenues on Business
The Registration number of any vehicle registered in the parent's name in the case of females
Two References CNIC's Copy (other than blood relatives)
A brief business write-up or plan
Entity Existence Documents in case of partnership
Additional Documents for Existing Business:
Latest Financials- Signed
Reference Letter from / Chamber / Union / Association
Reference for Consumer number of Electricity connection at commercial Address
Bank Maintenance Certificate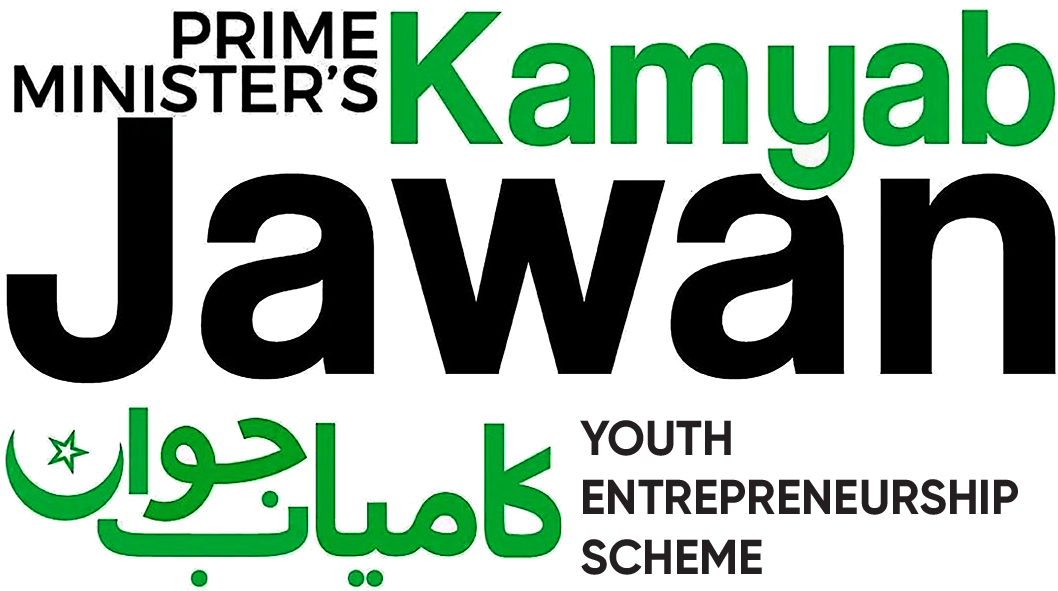 FAQs about this Loan:
Following are the frequently asked questions about the Jawan Program loan.
Can Physical Applications be accepted in designated branches?
Ans: No only online applications are accepted from the declared banks.
Which Banks are involved in this Kamyab Jawan Program Scheme???
Ans: banks participating in the scheme;
Allied Bank Limited
Albaraka Bank Limited
Askari Bank Limited
Bank Al Falah
Bank Al Habib
BankIslami Pakistan Limited
Bank of Khyber
Bank of Punjab
Dubai Islamic Bank Limited
Faysal Bank Limited
First Women Bank Limited
Habib Bank Limited
Habib Metropolitan Bank Limited
JS Bank Limited
MCB Bank Limited
Meezan Bank Limited
MCB Islamic Bank Limited
National Bank of Pakistan
Sindh Bank Limited
Soneri Bank Limited
United Bank Limited
Q: What is the minimum education required to apply for this loan?
Ans: No minimum education limit is specified for applying for the loan.
Q: The employees of which sector can apply for this??
Ans: Employ from any sector apply for this loan
Q: How many loans 1 person can avail?
Ans: A person cannot avail of more than one loan.
Q: Can Government Employs apply?
Ans: No, the Govt. Employees are not eligible to avail Kamyab Jawan Program .
Q: Any processing fee?
Ans: Only Rs. 100 including NADRA online CNIC verification.
Q: Can an applicant withdraw his application?
Ans: yes, it can be withdrawn at any time before the approval or rejection, the applicant can also quit. Moreover, in case of approval the applicant can withdraw the application, but in case of rejection he won't be able to withdraw.
Q: Is there any grace period?
Ans: The Kamyab Jawan Program scheme allows a 1-year grace period. Though, the exact grace period depends upon the business specifications & bank's decisions.